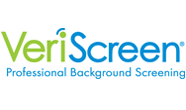 Professional screening services have become an indispensable tool in the recruiters' toolkit. By learning about a candidate's employment history and other important details, hiring teams obtain the intelligence and information they need to make smart decisions. VeriScreen, a professional screening company, has set the standard in the industry. They have built a reputation founded on integrity and getting results. This company sets itself apart from the competition by gaining the advantages in key areas, including:
Professionalism: VeriScreen has assembled a team of knowledgeable and experienced personnel to handle all aspects of the background check process. They tell clients everything they need to know about professional screening and can help implement a comprehensive program.
Technology: VeriScreen has successfully implemented a screening solution that is simple and powerful. By utilizing FRCA-compliant data, this technological suite compiles and organizes information from national criminal databases, talent assessment platforms, human resource management software, and more. This makes it easy for hiring teams to obtain relevant information.
Risk Management: VeriScreen provides responsive support to make the hiring and rejection processes as seamless and hassle-free for all involved parties. The company has consumer relations specialists to address client concerns and disputes. This gives hiring firms a diplomatic component to their employment protocols.
In today's fast-paced and ever-connected world, finding the right people to fill the critical roles in your organization has become a challenge. With applicants vying for position in your business, it is important to work with a professional screening services company you can trust. VeriScreen is leading the way to building stronger workforces.