Person Search Plus™ is the leading Identity Verification Service
The key to VeriScreen's success over the years has been our proprietary Person Search Plus™. 
We use credit bureau and social security address histories like other screening companies, but we go much deeper to develop the applicant's name, DOB, and address history. 
With our exclusive Person Search Plus™ product, we can guarantee more criminal records are delivered, and our experienced researchers will eliminate ALL FALSE POSITIVES.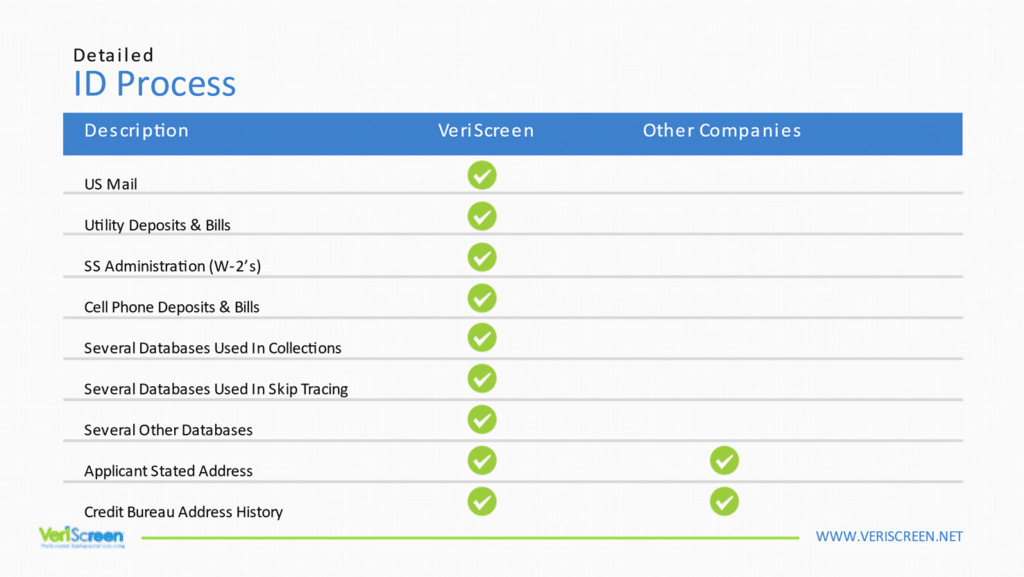 Over the years we have found a lot of criminals do not give the address where they were convicted, nor do they fill out credit applications while in prison. Many have also figured out that they can transpose a letter or two in their name or DOB and most companies will not find their records.
Due to cost restraints, we realize that employers do not want us to search in tons of counties. With our experienced researchers and address databases, we can select the best counties for searches to get the most for your money. In most cases we only need to search 2-3 counties. Our comprehensive address search can also help you decide if applicants are leaving job histories off their application or resume.
Actual Test Results: We ran tests against our competitors, and found an error rate of at least 15%. This is a high percentage and should cause concern regarding the inaccuracy of their background checks.
Providing You The Most Comprehensive Background Checks For Employment and Housing For 25+ Years
⭐⭐⭐⭐⭐
"Thanks, you guys do such an awesome job! I just completed my analysis of filling positions for last year and we filled 40 more than the previous year and did it in less time. I know that your staff's turnaround time has played a big part in these improved results. Thanks again!"
⭐⭐⭐⭐⭐
"We are immensely pleased with VeriScreen and thankful for your partnership with the Boys and Girls Club Association."
⭐⭐⭐⭐⭐
I wanted to say how pleased I am with our switch to VeriScreen. The transition was smooth and seamless. The turnaround time on a background check is quick and accurate. VeriScreen charges us one flat rate, and we get all the records. Because of the flat rate, we have saved money from our previous screening company that charged for records!
⭐⭐⭐⭐⭐
We've had excellent service from VeriScreen. The online report ordering is very easy to navigate, with the option of sending the applicant a link to input their own information. The reporting is prompt and we can ALWAYS reach someone with questions. I especially like that it's the same crew we are able to contact, by phone or email.
Our experts will answer your questions and help design the screening package you need. Each one is Advanced FCRA certified and our customer service is unmatched.